SPECIAL OFFER FOR
TRAVEL AGENTS
Special offers for fellow Travel Agents who
work to give the best services to all
their customers all year round...
Travel Agents are only required to present an
ID or official document to take advantage of WTS's offers specially prepared for Travel Agents.
TRAVEL AGENTS DAY AT SAO PAULO
21-25 April 2010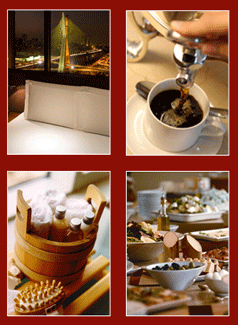 To celebrate Travel Agents Day, World Travel Service
is offering the Grand Hyatt Sao Paulo prepared
special offers, for our most important business
partners in the tourism sector
From April 21 to 25, enjoy reductions
of up to 30% on the daily rate,
including breakfast.
During your stay with us, travel agents enjoy a 10%
discount in our restaurants and bars, and 20%
off the Aromatherapy, Shiatsu, Sports
and Swedish massages at
Amanary Spa.
Contact our agency to take advantage
of these offers
World Travel Service
Rezervation: +90 212 2379060

The reservation form is a privilege for our customers to send
their requests and wishes and to get their replies in a most quick way.